MECHANISM TO CORRECT THE BALANCE OF THE SOLE
More than 80% of adult females have imbalanced soles. Because of this, we see an increase in problems related to beauty and health, such as chronic pain, imbalance of the autonomic nervous system, depression, troubles in the foot, swelling and chilliness in the legs, obesity in the lower body, and O-shaped legs. In order to solve such problems, people in modern society need to correct the balance of soles.
I'd like to introduce a taping technique that employs the theory of the lever; a principal of correcting feet by pushing fulcrum and reaction points. It is important to correct the sole with this taping treatment, as it promotes correct walking by using the toes. "3 Toe Socks" are socks with the taping treatment imbedded. These socks have been developed based on the research and experience of treating more than one hundred thousand people over the span of 41 years in Japan.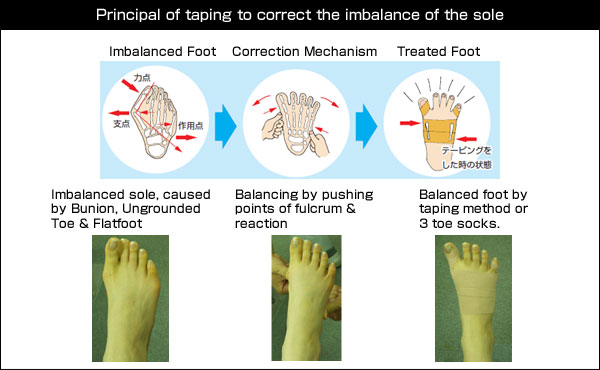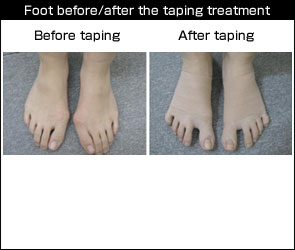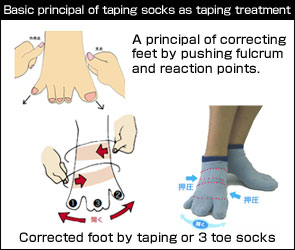 TAPING SOCKS IN SUBSTITUION FOR TAPING TREATMENT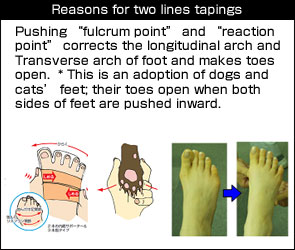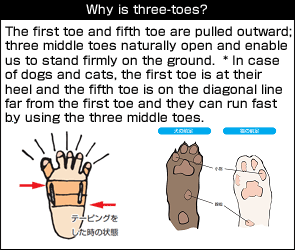 BALANCE OF THE SOLE AND SLENDER LEGS
Imbalance of the sole gives extra load to the shin and calf, and makes extra muscles. Then the muscle stores fat in order to deal with fatigue. This is how legs put on fat. In contract, balancing the sole reduces load to the shin and calf, and then keep legs slender.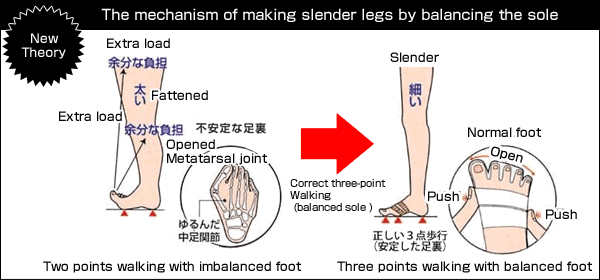 BALANCE OF THE SOLE AND SLENDER THIGH AND BUTTOCK
When the first toe bends up more than 90 degrees toward the instep, the sole become imbalanced and big muscle above the feet tries to balance. This action produces muscles around thigh and buttocks, and then the muscle store fat for fatigue. This is how the thigh and buttocks gain weight. When the sole is balanced by grounding with the first toe, excess muscles and fat will be reduced and make the lower body slender.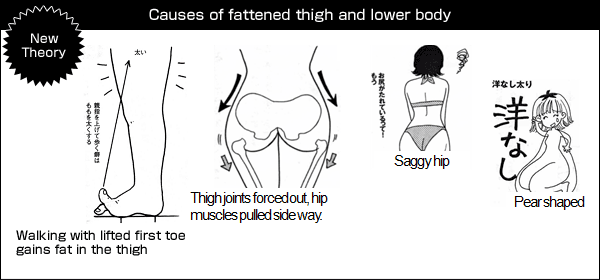 BALANCE OF THE SOLE AND GOOD PROPORTION
When the sole balances well, the balance of whole body naturally become well and helps keep good postures and reduces excess muscles and fat.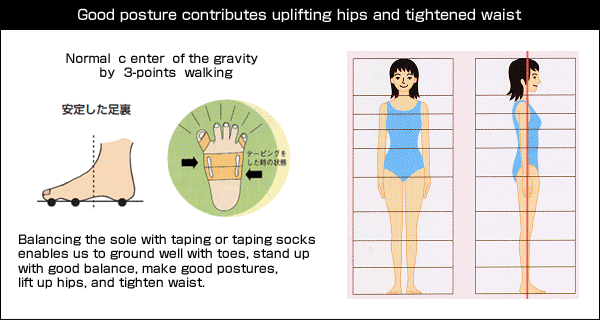 BALANCE OF THE SOLE AND CORRECTION OF O-SHAPE LEG
Imbalance of the sole makes the tips of toes outward and results in O-shape legs. Balancing the sole can correct O-shape legs.